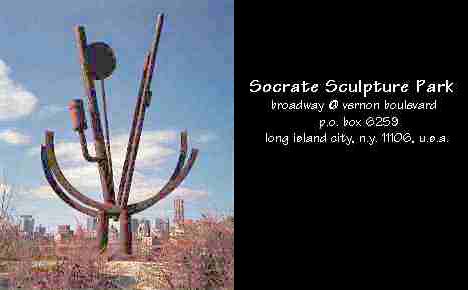 Next Opening: From The Ground Up -- May 18, 1997 2-6 pm
Tenth Anniversary Exhibition Sept 1996 to April 1997:
Socrates Sculpture Park recently celebrated its TENTH anniversary. I know of no urban art park anywhere that compares with Socrates. The 4.5 acre park is the only public space within the metropolitan area specifically devoted to exhibiting large-scale outdoor sculpture.
Images on this site are in JPG format and are each approx 24k. They can be selected one at a time. I am not a professional photographer nor is this web area 'officially' sanctioned by Socrates (though Enrico said "sure!"). Please contact them at the above address for more info. Better yet visit and experience it in reality.
The photos are organized by my own arbitrary geographic divisions but I do hope to convey some sense of how each work blends into/diverges/from and/or complements eachother.
---